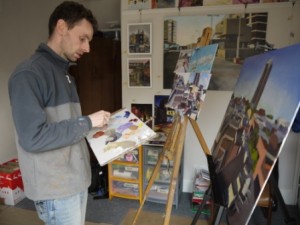 I am interested in people, the places where we live and work, and how our environment shapes our daily lives.
I would like my work to communicate something about the beauty of the everyday and our shared experiences – whether that be queuing for a bus, or watching the way the light changes towards the end of the day.
The search for my personal, authentic voice has seen me experiment with different media and approaches to making art; working both from direct observation and imagination. Study of anatomy and practice of gestural drawing have extended my skills, helping me to express movement and interaction that is either observed or felt within.
I work from my studio in Wiltshire, as well as out 'on site' across the west of England and South Wales. My exhibitions to date have focused on the urban landscape as well as my experience of commuting by rail. I have been awarded two prizes for 'plein air' painting, including Art in the City (Gloucester) and Pintar Rápido (London). My work is held in a number of private collections.
To view my paintings and prints available for purchase, please click the 'Shop' button on the menu above.
You can also subscribe to my Art Blog; I will send you occasional email bulletins (usually once a quarter) to update you on my work and upcoming events. I also like to share reflections on the creative process, and the places, people and artworks that inspire me.
If you are interested in following the day-to-day development of my work, do follow me on social media. Click the icons at the top of this site to view my Instagram or Facebook pages.