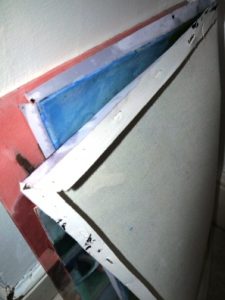 I confess that I am prone to starting far more projects than I am able to resolve. Once you stimulate creativity, it is hard to contain it – particularly if you are as restless as I am! In other words, I get lots and lots of ideas, but I would need to invest a lot of time to make each of those individual ideas come to fruition.
A few weeks ago, I had some lino installed in the studio to protect the old wooden floorboards. It was something I had wanted to get done since we moved in to the house last year, and an important investment. Preparing for this event took a lot of time and effort, and I had to clear the entire contents of the studio in order to make space for the lino fitters.
As I emptied the room, I came face to face with old paintings and sketches that I had started and abandoned months ago – the 'half-baked' ideas that I had discarded and hidden in various corners. I also found that I had accumulated far more art books and catalogues than I actually needed, as my inspiration jumped from one art movement to another.
I realised that artists, especially early-career ones, are rather like people visiting the dressing room in a department store. Keen to experiment with different materials, colours, and styles, I had emerged from behind the curtain with more than a few discarded items. I reassured myself that this was all part of the learning process, as I consolidate my working methods.