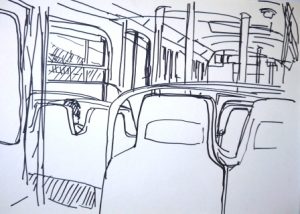 I am very lucky to have lived in many places across Europe, and I have fond memories of the time I spent in Brussels.
Nowhere is quite like the capital of Belgium and the EU.  At first I lived in Jette, a suburb at the northern end of the Simonis Metro line, once home to the painter Magritte. Each Sunday I would go to the market in the Place du Miroir/Spiegelplein, followed by the bakery on the corner. Locals queued up there to buy their bread for the week – fresh and warm, straight from the oven.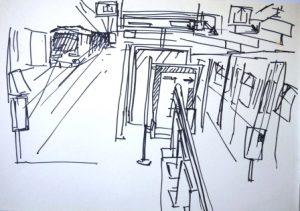 Armed with my STIB/MIVB travel card I had the freedom of the Greater Brussels region, and I travelled everywhere by tram, Metro and bus. Public transport is by far the best way to discover the city, and to understand the unique mix of people, culture and languages that make up Brussels today. Each Brussels Metro station has been decorated by a different Belgian artist, and that alone was reason enough to spend entire weekends happily travelling from one station to another admiring the artwork. The Metro was also where I started to sketch in the evenings after work. Belgian winters can be quite cold and windy at times, whereas the Metro platforms were nice and warm. There was often a vending machine filled with tempting Belgian chocolate, and sometimes they would play background music. Add to that the interesting range of travellers waiting for the next train, and that was all I needed to get sketching.
I still remember the fateful day when they organised the Open Doors event across Brussels. I went to visit the Belgian National Opera on the Place de la Bourse/Beursplein. Whilst the main theatre building was interesting, I was blown away by the workshops behind the stage. The workshops were in an old furniture factory building that had been taken over by the opera, and to this day, I have never seen such a huge space dedicated to art. They were using scaffolds to paint the backdrop for the next opera. It was inspiring, and I knew then that I would develop my own artwork as well in the future.