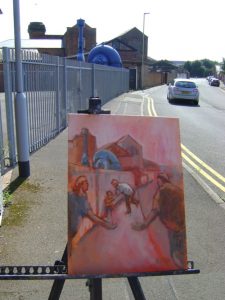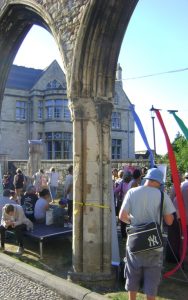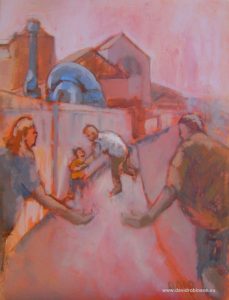 Last Saturday, I took part in the second 'Art in the City' event in Gloucester, and was thrilled to win First Prize for the 'Plein Air'/outdoor painting category.
I chose to paint in the historic docks area, where the heritage buildings and modern developments offer lots to explore in paint. Initially, I was drawn to a tall, red lightship (similar to a lighthouse) moored alongside Gloucestershire College, but on reflection decided that I needed a more shady spot to work on such a sunny day.
Walking behind the warehouses, I came across Gwynnes, a bright blue water pump, affectionately known locally as the 'snail'. Both the shape and the colour contrasted well with the surrounding buildings, so I set up the easel and started drawing. Adding to my composition, I experimented with figures one by one: sketchbook scribbles, passers-by, and a bit of artist's license all played a part here – my aim was to depict the interactions between people, to tell a story. With this in mind, I began by filling in the outlines and darkest areas of the painting in Raw Umber, and then worked from the lightest areas back through the mid-tones, keeping the focus on the figures in the middle.
I took regular breaks to step back, to dip into my packed lunch, and to chat – first with a traffic warden, then with a passing motorist. I tried to keep my concentration, and to work through difficulties as they arose. By 3pm the shade had all but disappeared, and it was time to bring the work to a conclusion. I submitted my work, exhausted but relieved, making a mental note of what worked well, and things to practise for future work.
Later that evening, we were treated to a beautiful reception at the King's School, just behind Gloucester Cathedral, bringing together artists, sponsors and event organisers, all accompanied by local musicians. Conversation and speeches focused on the positive role that the arts are playing in making Gloucester such a lively and exciting place today, attracting new visitors to the city.
I was shocked, and humbled to be awarded the 'Plein Air'/outdoor painting prize, and I am very grateful for the recognition given to my work. The award has given me confidence to continue learning and practising, and I would like to thank the organisers, judges and sponsors of Art in the City 2018.