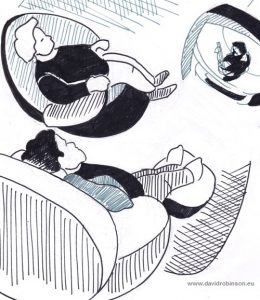 Inspiration comes in many forms. Anything that fills me with enthusiasm is likely to have an impact on my work.
Over the Christmas period, I was fortunate to attend a Christmas concert by Tintagel Orpheus Male Voice Choir, held at Camelot Castle Hotel. It was a real treat; the singing, the company, and the setting were all wonderful. Towards the end of the evening I made a couple of furtive scribble-sketches, and so began the first of several ideas for future Christmas illustrations…
Several TV documentaries held my attention over the break. Firstly I saw a profile of the illustrator Raymond Briggs. I was thrilled to learn more about the breadth of Raymond Briggs' work, which includes books about: the story of his own parents' lives (Ethel & Ernest), a critique of the Falklands War, and of course 'Father Christmas' and 'The Snowman'. It was a lesson in the power of images, and the importance of our own experiences and imagination.
I also watched programmes about the late Ken Dodd, a comedian from Notty Ash, Liverpool and Billy Connolly, a comedian from Glasgow. I was dazzled by the breadth of their vision, skills and inventiveness. Not only did Ken Dodd do comedy, he also sang, did ventriloquism, did Shakespeare, and made up stories about Diddy Men and Jam Butty Mines. He crafted his acts whilst spending hours in public libraries learning about humour.
Billy Connolly reflected on his experiences growing up in Glasgow and recounted how his career began when he left the shipyard to become a banjo player and raconteur in a folk group. He too has a talent for music and comedy, cares passionately about the arts, and his reflections on Parkinson's Disease and later life were extremely eloquent and moving.  
From all of this, I think it is important to nurture our spirits, to keep a broad outlook on life, and to keep enthusiastic about everything we love to do!