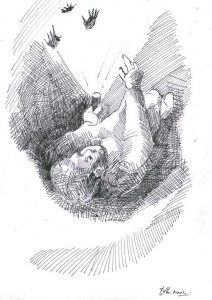 This was a beautiful and uplifting programme. Art can be a solitary pursuit at times, but programmes like this remind and reassure us that we are part of a long line of people following this path.
In the UK Antony Gormley is well known for his sculpture, including the huge 'Angel of the North' near Gateshead and numerous life-size model-sculptures of his own body that pop up in many different places!
In this programme he set out to find the oldest art in the world, visiting sites in France, Spain, Indonesia and Australia. The cave art in Indonesia has been dated to over 40,000 years ago, which means that it must have been created by our distant Neanderthal ancestors. Why?
Gormley commented that art is life-affirming; it shows that we, individually, all exist in time. Like the Neanderthals, we are all subject to time, and that time will run out on us soon; our individual human lives are so short in historical and geological terms.
I was deeply moved by Gormley's reflections on what he saw. He showed us cave paintings that were full of reverence for life: paintings of deer, bison, pigs, and stencils of the human hand – an ancient way of saying 'I was here' before writing was invented! Only at Niaux, in the Pyrenees, did he react negatively to what he saw – that particular cave was full of trophy paintings of animals recently killed and dominated by man.
The most touching part of the documentary saw him join an aboriginal tribe to visit sacred sites in the Kimberley, Australia. For them, rock art remains a living tradition, central to their beliefs and identity. Beautiful images of plants, animals and joyful humans are to be found across the Kimberley, part of a native culture, undisturbed by the modern world.
Wherever we live, that spiritual connection is important to us all. I was inspired by Gormley's conclusion that art is intrinsic to our human condition, that it's our 'better part', helping us to 'register our ability to reflect on our existence' and to 'understand our place in the world'.
'How Art Began' was broadcast on BBC 2 on 26 January 2019