Walking along the Old Ridgeway Path from Chiseldon, I decided to stop and paint this view. I noticed the interesting 'curve' in the pathway in the distance, as well as the gentle slope of the hill.


A first layer of paint (or 'ébauche' to use the posh term!) in raw umber.

Blocking in the main colour notes, making sure to keep the warmest, strongest colours in the foreground.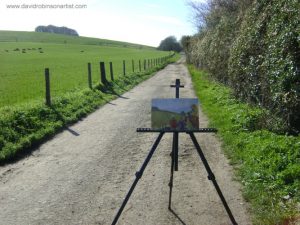 The view from a distance. I use a lightweight, aluminium easel when I am painting outside.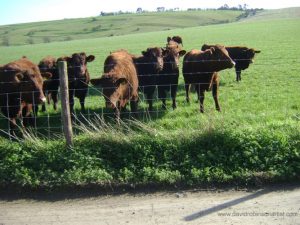 The cows came over to see what I was doing… I am not sure they approved!


At this point I decided to leave the painting. It is not 'finished' per se, but I would say that it is as resolved as I could manage in the time available outside.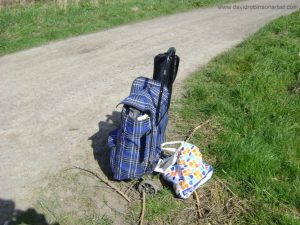 This is my current kit for painting outdoors… including a very useful shopping trolley! Lunch is kept in the plastic bag, together with plenty of water.