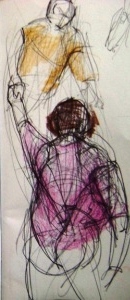 This year I have been learning more about anatomy, and developing my figure drawing. I have taken inspiration from a number  of artists, learning about how they develop their initial ideas through to resolved images.
In July I attended Juliet Wood's retrospective exhibition, 'A Human Touch', and was particularly moved by her portrayal of Ourmala yoga classes for refugees and asylum seekers. Juliet works from direct observation. She makes sketches in-situ, from which she develops compositions and colour/tonal studies in oil pastel. That preparation, together with her experience as a portrait painter, provides the foundation for her large figurative oil paintings.
More recently I travelled up the Garw Valley to visit Kevin Sinnott's exhibition, 'Every Home Should Surprise Itself…' Kevin works mostly from imagination, sketching out initial ideas in charcoal, then making small studies in oil to test out colour relationships and composition. Thereafter, he develops larger oil paintings that rely on his experience and judgement to refine and resolve as he goes along – a certain amount is left to chance.
I continue to carry a sketchbook, and often use it to make sketches from life – or from imagination – playing around with ideas. There is value in both approaches, and in a recent composition I mixed in figures I had seen with a few I dreamt up for good measure. I have started work on a series of paintings inspired by Swindon's historic Railway Village.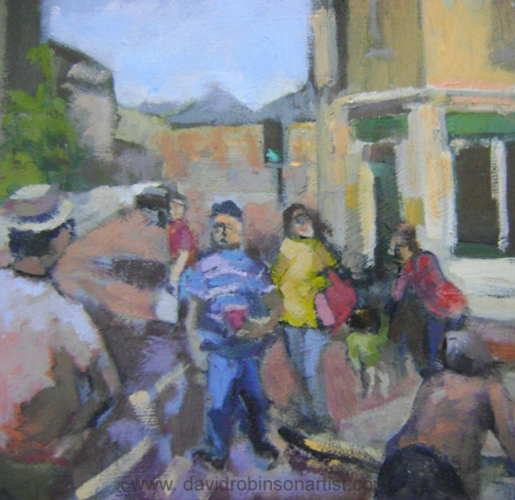 Work in progress: 'The Glue Pot'