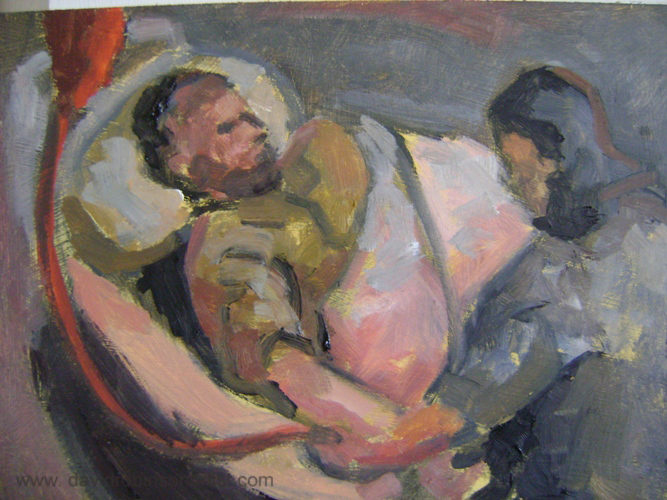 Painting is all about discovery and problem solving. As mentioned previously, I have a number of images (and ideas for images) that I have been developing for my hospital series over a number of months now. My current focus is on trying to resolve a painting of a blood transfusion.
In preparation for this painting I made a full-size line drawing ('cartoon'), a small tonal study to map out the shadow patterns as well as a colour study. I also did two pencil studies of the faces in the composition. My initial underpainting was ok, but as I added in subsequent layers of paint, the image looked a bit confused. What wasn't working?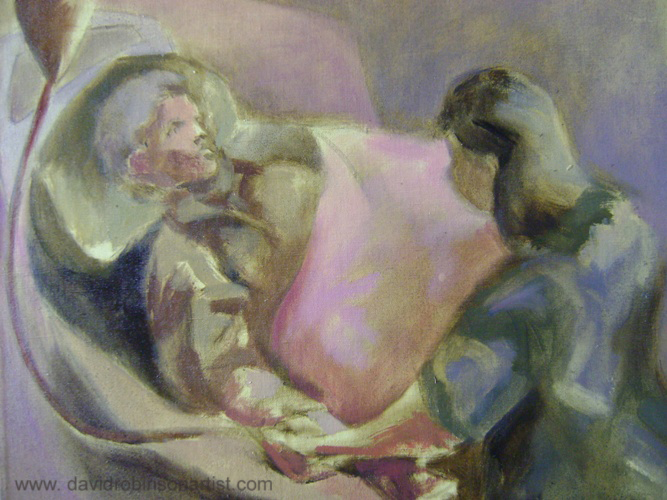 Years ago my parents bought a weekly set of magazines titled 'The Great Artists'. Every new edition featured a different artist, and we would pick them up each week from our local papershop. It was a considerable expense. I still have those magazines, and they are a wonderful, compact overview of western art over the centuries.
Lost in my painting problems, I flicked through the magazine that profiled Goya's work: full of drama and the horror of the Napoleonic wars. I also picked up the magazine on Poussin – much earlier than Goya, more colourful paintings, but equally dramatic compositions and subject matter. I thought to myself: how did we, how did I, lose touch with painting like this that is so powerful?
What I am learning is to try and simplify my images – tonally and in terms of colour – and to 'boil it down' to a clear message. Easier said than done, but it is all work in progress.