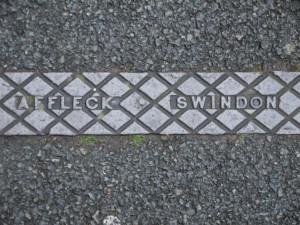 Inspiration for the 'Made in Swindon' Art Trail logo came from the street right outside our house! Like many Victorian streets in Swindon, we have a number of iron drain covers that were cast in a local foundry – in this case Affleck's.
The process of cutting a pattern from wood, and then casting it in iron has many parallels with lino-cutting. It is a slow, intricate process of creation, but one which produces a very clear and striking image.
I designed the logo to look like a stamp, and 'Made in Swindon' is a mark of provenance and quality which builds on our town's engineering and industrial heritage.
First I produced a version of the design on paper, and then transferred it to the lino block using tracing paper. The design is reversed in the process, in order that the final print registers the correct way around.
For those interested, a number of the original wooden patterns for the Great Western Railway can be seen in the STEAM Museum in Swindon. 
The 'Made in Swindon' Art Trail will run from 6 June – 9 July 2016, and will feature the work of more than 10 local artists (myself included) at venues across Swindon.