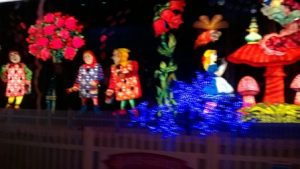 I grew up around 10 miles inland from Blackpool in Wyre Borough, and my parents took my brothers and me to the Blackpool illuminations on many occasions. So it was with great excitement and anticipation that my partner and I went back there for a few days' break after Swindon Open Studios 2016. The illuminations made a big impact on me as a child, and they did not disappoint on my return visit.
Blackpool has a wide, open seafront with vast skies, and a horizon that stretches out to the flat plains of the Fylde. It has grandeur, with vast Victorian, Art Deco and modernist façades stretching from Fleetwood in the north all the way down to Lytham. It now has a smart new seafront and trams which glide up and down, carrying chatty locals and holiday makers to and fro.
Familiar feelings flooded back as I took in the dazzling souvenir shops, amusement arcades and the endless cheap entertainment and food on offer. It is a place of freedom, where everyone can find contentment – from a simple cuppa and chat in a café, to a thrilling ride on a Pleasure Beach rollercoaster.
Looking back on it as an artist, I was captivated. Miles of neon-coloured illumination lights lit up the night sky. There was a succession of figures lit up by the glowing lamps in hotel lounges, bars and conservatories gazing out at the excitement of the promenade in front. Instantly I thought of Hopper's night-time city paintings, and a thousand compositions played out before me as we took the tram down to Starr Gate. I have promised myself to return to Blackpool for a painting trip sometime soon.
Photos (c) Mark Worrall